Hurricane Basics & History
Hurricane Preparedness Week playlist on YouTube
What is a Hurricane?
A hurricane is a type of tropical cyclone, which is a generic term for a low pressure system that generally forms in the tropics. The cyclone is accompanied by thunderstorms and, in the Northern Hemisphere, a counterclockwise circulation of winds near the earth's surface. Tropical cyclones are classified as follows:
* Sustained winds
A 1-minute average wind measured at about 33 ft (10 meters) above the surface.
** 1 knot = 1 nautical mile per hour or 1.15 statute miles per hour. Abbreviated as "kt".
Tropical Depression
An organized system of clouds and thunderstorms with a defined surface circulation and maximum sustained winds* of 38 mph (33 kt**) or less
Tropical Storm
An organized system of strong thunderstorms with a defined surface circulation and maximum sustained winds of 39-73 mph (34-63 kt)
Hurricane
An intense tropical weather system of strong thunderstorms with a well-defined surface circulation and maximum sustained winds of 74 mph (64 kt) or higher
Familiarize yourself with the terms that are used to identify a hurricane.
A hurricane watch means a hurricane is possible in your area. Be prepared to evacuate. Monitor local radio and television news outlets or listen to NOAA Weather Radio for the latest developments.
A hurricane warning is when a hurricane is expected in your area. If local authorities advise you to evacuate, leave immediately.
Hurricanes are classified into five categories based on their wind speed, central pressure, and damage potential. Category Three and higher hurricanes are considered major hurricanes, though Categories One and Two are still extremely dangerous and warrant your full attention.The following chart details the categories and the damage that can result from a storm with that strength.
Saffir-Simpson Hurricane Scale
| Scale Number (Category) | Sustained Winds (MPH) | Damage | Storm Surge |
| --- | --- | --- | --- |
| 1 | 74-95 | Minimal: Unanchored mobile homes, vegetation and signs. | 4-5 feet |
| 2 | 96-110 | Moderate: All mobile homes, roofs, small crafts, flooding. | 6-8 feet |
| 3 | 111-130 | Extensive: Small buildings, low-lying roads cut off. | 9-12 feet |
| 4 | 131-155 | Extreme: Roofs destroyed, trees down, roads cut off, mobile homes destroyed. Beach homes flooded. | 13-18 feet |
| 5 | More than 155 | Catastrophic: Most buildings destroyed. Vegetation destroyed. Major roads cut off. Homes flooded. | Greater than 18 feet |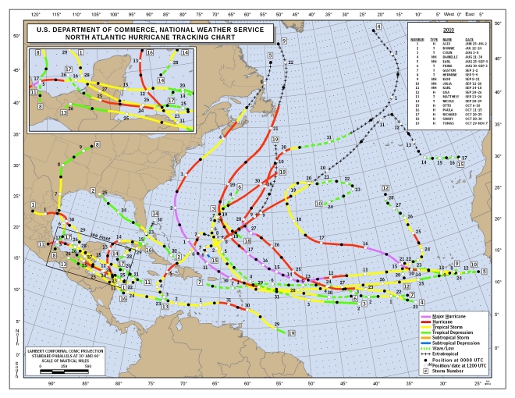 2010 Atlantic Hurricane Season Track Map (click to enlarge)
In the following article, we look at the 2010 Hurricane season in review, comparing the forecast to actual results. We also look at NOAA and Colorado State University forecasts for the 2011 Season.
Central Pacific Hurricane Center,
Honolulu).
We will continue coverage of Hurricane Preparedness Week by looking at some of the hazards starting tomorrow. Additional Hurricane information can be found in our static
Weather
tab.