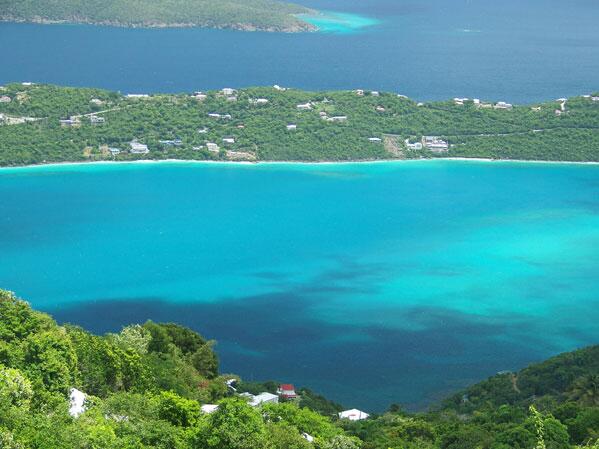 This image captured by us on one of our past trips to St. Thomas was taken from the world famous Mountain Top. From there you can see all of the surrounding area and really get the true sense of how blue the waters really are.
St. Thomas is truly a Caribbean paradise which is featured on many Eastern Caribbean cruise itineraries. On our most recent visit, during our Carnival Conquest cruise, we decided to explore under the sea, without even getting wet.
After a short cab ride from the pier, we arrived at
Coral World St. Thomas
. It is the second marine park developed by Coral World International and incorporates the following attractions: Marine Museum, Shark, Stingray and Turtle Pools, Touch Pools, and naturally - The Underwater Observatory. Now you know how we could explore under the sea without getting wet.
The park has been damaged by several hurricanes in the past. The Underwater Observatory was undergoing some renovation when we were there this February.
The cruise lines offer this as one of their excursions or you can take a cab there on your own. The prices are pretty comparable but the difference is with a group you are set to a schedule while when on your own you can set your own pace and possibly include one of the optional activities, such as the SNUBA® adventure pictured here.
SNUBA® gives you complete freedom of movement and ease of breathing under water as the air tanks are located at the surface being carried on a raft.
After a short orientation a certified SNUBA guide will lead you and a group of no more than 4 people on your adventure to the shores of Coki Point where a beautiful coral reef thrives with a wide variety of sea life.
Planning on Visiting USVI?
If you are flying directly to St. Thomas you won't need a passport if you are a U.S. Citizen. Of course, if you plan to also visit other islands that aren't U.S. Territories, or if you are on a cruise, you will still need your passport.
There are plenty of things to do from dining, shopping, relaxing on a beach, to exploring the wonderful world under the sea as we have discussed here. Visit the
U.S. Virgin Islands tourism page
to learn more about the islands and what they have to offer.
Tip: There are several attractions near the ship's pier in St. Thomas. You can venture off on your own if you prefer.
We'll continue with San Juan and more about the ship in our next installments. If you are just joining us, we have several articles in this mini-series already. You can either page backwards or check our main article (click image).