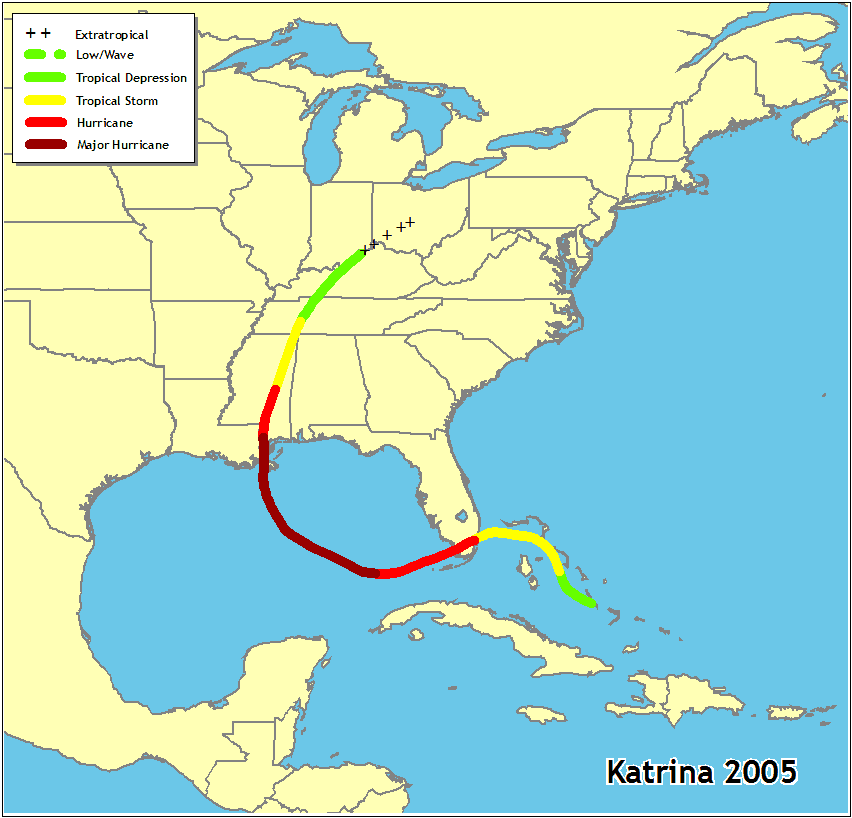 On this the eve of the seventh anniversary of Hurricane Katrina, Louisiana and the Gulf Coast were once again bracing for the impact of a hurricane.
Katrina was an extraordinarily powerful and deadly hurricane that first caused fatalities and damage in southern Florida as a Category 1 hurricane on the Saffir-Simpson Hurricane Scale. After reaching Category 5 intensity over the central Gulf of Mexico, Katrina weakened to Category 3 before making landfall on the northern Gulf coast.
Even so, the damage and loss of life inflicted by this massive hurricane in Louisiana and Mississippi were staggering, with significant effects extending into the Florida panhandle, Georgia, and Alabama. Considering the scope of its impacts, Katrina was one of the most devastating natural disasters in United States history.
New Orleans was severely impacted by Katrina, and has since rebuilt the levees that failed them back in 2005. The burning question for town residents tonight was - would they hold with this latest approaching storm.
Fortunately, Hurricane Isaac was a much weaker storm, but don't let that fool you. It had the potential to bring heavy rains, flooding, power outages, damaging winds, and all the hazards associated with tropical cyclones.
Isaac, which spans more than 200 miles, made landfall at about 6:45 p.m. local time near the mouth of the Mississippi River. New Orleans, about 75 miles to the northwest, was a ghost town as residents and tourists heeded warnings to stay indoors. Except for low-lying areas which were under mandatory evacuation orders, the majority of the folks stayed here to ride out the storm.
Following is a comparison of the two storms. We trace some of the significant milestones as the two storms headed from the Atlantic to the Caribbean Sea and into the Gulf of Mexico before making landfall. For those that want even more information, see the storm and graphic archives on the NHC website.
DATE / TIME
KATRINA 2005
ISAAC 2012

Storm Archive

Storm Archive
Storm Milestones, Watches & Warnings Issued
21 AUG

500 AM AST TUE AUG 21 2012
TD-9 forms east of Lesser Antilles, 

TS Warnings / Watches issued

1007 MB / 35 MPH

 

500 PM AST TUE AUG 21 2012

Strengthens to tropical storm 

1006 MB / 40 MPH 

 

1100 PM AST TUE AUG 21 2012

Puerto Rico, Virgin Islands 

22 AUG



500 AM AST WED AUG 22 2012

Dominican Republic

1003 MB / 45 MPH 

 

800 AM AST WED AUG 22 2012

British Virgin Islands 

1004 MB / 45 MPH  

 

200 PM AST WED AUG 22 2012

Leeward Islands

1006 MB / 45 MPH 

500 PM AST WED AUG 22 2012

Haiti

1004 MB / 45 MPH  

 

1100 PM AST WED AUG 22 2012

Eastern Caribbean

1003 MB / 45 MPH 

23 AUG

500 PM EDT TUE AUG 23 2005

TD 12 forms - Bahamas

TS Warnings issued

1007 MB / 35 MPH

 

1100 PM EDT TUE AUG 23 2005

Florida Keys, East coast

1007 MB / 35 MPH
 

 

1100 AM AST THU AUG 23 2012

South of Virgin Islands

1003 MB / 40 MPH 

 

500 PM AST THU AUG 23 2012

Bahamas, Cuba

1003 MB / 40 MPH 

 

1100 PM AST THU AUG 23 2012

Hispaniola

1001 MB / 45 MPH 

24 AUG

1100 AM EDT WED AUG 24 2005

Becomes tropical storm

Bahamas, Florida

1006 MB / 40 MPH  

500 PM EDT WED AUG 24 2005

SE Florida

1002 MB / 45 MPH  

 

1100 PM EDT WED AUG 24 2005  

Hurricane warnings

1001 MB / 50 MPH


800 AM EDT FRI AUG 24 2012

Jamaica

1000 MB / 50 MPH 

 

200 PM EDT FRI AUG 24 2012

Southern Hisapniola

997 MB / 50 MPH

 

1100 PM EDT FRI AUG 24 2012

Haiti Landfall

990 MB / 70 MPH
   

25 AUG

800 AM EDT THU AUG 25 2005

Better organized

999 MB / 50 MPH 

1100 AM EDT THU AUG 25 2005

Florida straits

997 MB / 60 MPH 

 

300 PM EDT THU AUG 25 2005 

Near hurricane strength

990 MB / 70 MPH 


500 PM EDT THU AUG 25 2005

Cat 1 Hurricane

985 MB / 75 MPH 

 

900 PM EDT THU AUG 25 2005 

Eye over NHC

984 MB / 80 MPH

 

1100 PM EDT THU AUG 25 2005

Eye over Miami-Dade

984 MB / 75 MPH
 

500 AM EDT SAT AUG 25 2012

South Florida, Keys

992 MB / 60 MPH
 

1100 AM EDT SAT AUG 25 2012

Florida East Coast

998 MB / 60 MPH

 

200 PM EDT SAT AUG 25 2012

East Coast Cuba

1000 MB / 60 MPH
  

1100 PM EDT SAT AUG 25 2012

Straits of Florida

997 MB / 60 MPH
 

26 AUG

100 AM EDT FRI AUG 26 2005

Weakens over land

980 MB / 70 MPH
 

700 AM EDT FRI AUG 26 2005

Westward over Gulf

987 MB / 75 MPH 

 

1100 AM EDT FRI AUG 26 2005

Stronger - West of Florida

981 MB / 80 MPH 

 

200 PM EDT FRI AUG 26 2005

Cat 2 Hurricane

969 MB / 100 MPH 

 

1100 PM EDT FRI AUG 26 2005

Expected to intensify

965 MB / 105 MPH


  

800 AM EDT SUN AUG 26 2012

Florida Keys

995 MB / 65 MPH

 

500 PM EDT SUN AUG 26 2012 

Key West

992 MB / 60 MPH

 

1100 PM EDT SUN AUG 26 2012

Eastern Gulf of Mexico

993 MB / 65 MPH 

  

27 AUG

200 AM EDT SAT AUG 27 2005

963 MB / 110 MPH

 

800 AM EDT SAT AUG 27 2005 

Cat 3 Hurricane

940 MB / 115 MPH

 

400 PM CDT SAT AUG 27 2005

Louisiana

945 MB / 115 MPH

 

1000 PM CDT SAT AUG 27 2005 

Threat North Central Gulf

939 MB / 115 MPH
  

500 AM EDT MON AUG 27 2012

Louisiana Coast

990 MB / 65 MPH 

 

1000 AM CDT MON AUG 27 2012 

Eastern Gulf of Mexico

988 MB / 65 MPH 

 

400 PM CDT MON AUG 27 2012
Storm surge threat

981 MB / 70 MPH

 

1000 PM CDT MON AUG 27 2012

Flooding threat

979 MB / 70 MPH
   

28 AUG

100 AM CDT SUN AUG 28 2005

Cat 4 Hurricane

New Orleans

935 MB / 145 MPH

 

700 AM CDT SUN AUG 28 2005

Cat 5 Hurricane

Northern Gulf Coast

908 MB / 165 MPH

 

100 PM CDT SUN AUG 28 2005

Still Cat 5

906 MB / 175 MPH 

 

1000 PM CDT SUN AUG 28 2005

Cat 5

904 MB / 160 MPH 

   

400 AM CDT TUE AUG 28 2012

Verge of becoming hurricane

977 MB / 70 MPH

 

1120 AM CDT TUE AUG 28 2012

Becomes Cat 1 Hurricane

975 MB / 75 MPH

 

700 PM CDT TUE AUG 28 2012

Landfall Extreme SE Louisiana

970 MB / 80 MPH 

 

1000 PM CDT TUE AUG 28 2012

Dangerous storm surge; flooding

968 MB / 80 MPH     

29 AUG

MIDNIGHT CDT MON AUG 29 2005

Nearing Louisiana coast

908 MB / 160 MPH 

 

600 AM CDT MON AUG 29 2005 

Cat 4 Near Shore

918 MB / 145 MPH

 

800 AM CDT MON AUG 29 2005

Pounding SE Louisiana

923 MB / 135 MPH 

 

1000 AM CDT MON AUG 29 2005

Weakens to Cat 3

Moving ashore near Louisiana

& Mississippi border

927 MB / 125 MPH 

 

NOON CDT MON AUG 29 2005

Weakens to Cat 2 over land

940 MB / 105 MPH 

 

400 PM CDT MON AUG 29 2005 

Weakens to Cat 1

960 MB / 75 MPH 

 

700 PM CDT MON AUG 29 2005

Now a tropical storm

965 MB / 65 MPH 

 

1000 PM CDT MON AUG 29 2005

Coastal warnings discontinued

973 MB / 60 MPH 

1200 AM CDT WED AUG 29 2012

Coast of Louisiana

969 MB / 80 MPH 

200 AM CDT WED AUG 29 2012

Nearly  stationary

968 MB / 80 MPH     

 

300 AM CDT WED AUG 29 2012

Second landfall 

969 MB / 80 MPH 

 

400 AM CDT WED AUG 29 2012 

Begins Moving Inland

969 MB / 80 MPH

 

600 AM CDT WED AUG 29 2012

Floods and heavy rains continue

970 MB / 80 MPH  

 

800 AM CDT WED AUG 29 2012 

970 MB / 80 MPH 

1200 PM CDT WED AUG 29 2012

SE Louisiana / Mississippi Rains

973 MB / 75 MPH 

200 PM CDT WED AUG 29 2012 

Weakens to Tropical Storm

974 MB / 70 MPH 

700 PM CDT WED AUG 29 2012

Slow moving - only 6 MPH

977 MB / 60 MPH 

 

1000 PM CDT WED AUG 29 2012

Only moved 60 miles all day

980 MB / 60 MPH 

 

30 AUG

400 AM CDT TUE AUG 30 2005

Weakens further

981MB / 50 MPH 

 

1000 AM CDT TUE AUG 30 2005

Still heavy rainfall

Weakens to tropical depression

985 MB / 35 MPH 


100 AM CDT THU AUG 30 2012

Heavy Rains & Severe Weather

Farther inland Louisiana

981 MB / 50 MPH 




400 AM CDT THU AUG 30 2012

983 MB / 45 MPH 

 

1000 AM CDT THU AUG 30 2012

987 MB / 40 MPH  




400 PM CDT THU AUG 30 2012
Weakens to Tropical Depression

995 MB / 35 MPH   

  

31 AUG

No Advisories Issued


 


No Advisories Issued