For the Big Game?
Patriots vs. Giants
Norwegian Cruise Ship Perhaps?
Cruise Like a Norwegian
Super Bowl XLVI
(Giants vs Patriots) is on Sunday, February 5, 2012, at 5:30pm CT.
Watch the game on the two-story big screens
on Norwegian Pearl, Gem, Jewel and Epic while enjoying your favorite beverages.
Enjoy Food & Beverages ...
Guests will also enjoy snacking on game time favorites such as tortilla chips with cheese and salsa, popcorn, hot dogs and chicken wings in the line's pubs, bars and lounges including O'Sheehan's Bar & Grill on Norwegian Epic; Longboard on Norwegian Sky, Red Lion on Norwegian Dawn , and Henry's Pub on Norwegian Spirit.
Win Prizes ...
With the purchase of a bucket of Miller Lite or Coors Light, guests receive a scratch off card with a chance to win a Miller/Coors t-shirt. With the purchase of any beer bucket, guests will have chance to win a dinner for two in Cagney's, Norwegian's signature steakhouse.
Cheer for the Patriots or Giants while sailing to the Caribbean on Norwegian Epic, or Norwegian Pearl from Miami; Norwegian Spirit from New Orleans; and Norwegian Sun from Port Canaveral, along with Norwegian Sky to the Bahamas.
On a Different Cruise Ship?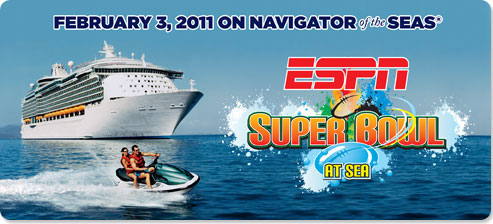 All the gridiron action of Super Bowl XLV sets sail on Royal Caribbean's Navigator of the Seas® for the second annual Super Bowl at Sea on February 3, 2011.
Super Bowl at Sea Viewing Party
Catch the Cowboys Stadium showdown live on the jumbo screen in the Studio B. Besides the main venue, the game will be broadcast at bars and lounges throughout the ship.

"Football vs. Futbol" Events Lineup
Put on your game face for "Football vs. Futbol," when American football and soccer go head-to-head in action-packed events, taking place all cruise long. Winners score prizes, and more importantly, all the glory.
Hang with ESPN hosts, NFL players, and Soccer players
ESPN commentators Robbie Earle, Shaka Hislop, and Tommy Smyth will be onboard to host "Football vs. Futbol" matchups and partake in all the Super Bowl Sunday action.

In addition to your ESPN hosts, spend time with NFL players Verron Haynes and Rod Coleman and Soccer players onboard.
The Superbowl will air on all 22 Royal Caribbean ships worldwide, so you won't miss any of the action.
Carnival Ships will Broadcast the Game
Of course all the ships in the Carnival Cruise Line family will be broadcasting live on the big screens. There will be fun activities hosted by the Carnival Entertainment staffs as well.
Nothing gets in the way of this special game. From the CD of the Triumph: "It's been confirmed. Elegant evening (include the Captain's Celebration) will be moved to Monday the 6th to allow for Super Bowl."
Enjoy the Game Wherever You Are ...
Plan now for next year, if you want to watch from a ship at sea