On the north coast of Hispaniola, surrounded by beautiful mountain slopes and exotic foliage, sits Labadee®, Royal Caribbean's private paradise. Royal Caribbean Allure of the Seas sails there during the 7 Night Eastern Caribbean cruise. This exclusive destination offers pristine beaches, breathtaking scenery and spectacular water activities.
Labadee boasts new enhancements and amenities for guests. The beach destination now features seven neighborhoods, each with a distinct style:
Buccaneers' Bay
You'll find the tour information and booking desk at Buccaneer's Bay, where you can book any remaining available spots for excursions. This is also the meeting point for our watercraft and boat tours. There is plenty to choose from including the WaveJet tour, Parasailing, Arawaky Snorkel Adventure, Haitian Hydro Highlights Express, Discover Haiti, Sandbar Rendezvous, Haitian Cultural Tour and Snorkel Safaris.
Dragon's Plaza
Located just outside Buccaneers' Bay. Here you'll be able to enjoy a barbecue style lunch buffet at the Dragon's Café. Dragon's Plaza is also the start of the longest beach on Labadee. Although not suitable for swimming (visit the beach at Columbus Cove instead), it is the perfect place to soak up the sun and listen to the sounds of the ocean. Be sure to take a walk out to Dragon's Head (a breathtaking natural rock formation).
Labadee Town Square
Labadee Town Square boasts an expanded version of the popular artisan market and a festive atmosphere that comes alive with music, folkloric dancers and more. This location offers convenient meeting places where guests can enjoy the rich Haitian culture and take in shopping, shows, cultural activities and other memorable experiences.
At the end of your day at the beach, catch a tram ride back to Buccaneer's Bay where it's just a short walk to the exit and back to your awaiting ship.
Adrenaline Beach
Not only is this beach brand new, but it is also home to Labadee's newest attraction, the Dragon's Tail Coaster. Located by Labadee Town Square, Adrenaline Beach features soccer, basketball and beach volleyball games.
During our visit, we had olympic style games there raising money for "Make-A-Wish Foundation" as part of our National Conference activities.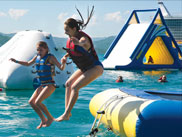 Columbus Cove
This family friendly spot is located in a protected cove that allows for swimming and floating on a beach mat. Trees along the sandy beach provide natural shade great for relaxation. Columbus Cove boasts one of the largest aqua parks in the Caribbean. The young and young at heart alike will enjoy family activities including: climbing "icebergs," the log roll, the teeter-totter, trampolines and a new water slide. This is also the site of one of our barbecue lunch buffet areas.
Nellie's Beach
Simply a slice of paradise. Want to enjoy a nice leisurely kayak trip to take in the sights of the surrounding coast and nearest village? Nellie's Beach is now home to the Kayak Adventure. You can also enjoy floating beach mats and complimentary beach lounge chairs on this picture perfect beach.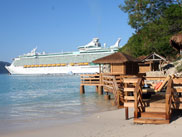 Barefoot Beach Club
Exclusively for Royal Caribbean International's
Grand suites and above
guests, the Barefoot Beach Club offers a total of 20 private cabanas along the water's edge and within the hillside areas. Enhanced food and beverage services are also available.
Guests are now able to dock directly on the Labadee coastline without having to tender onto a smaller vessel. This gives guests more time to enjoy the spectacular activities available on their own private beach destination. The pier stretches 1,300 feet (pier and trestle) in length and even allows the 225,282 gross registered tonnage berth of the Oasis of the Seas
®
, Allure of the Seas
®
, Freedom of the Seas
®
and Liberty of the Seas
®
.
To learn more about our recent Allure of the Seas cruise, and see more pictures, become a fan on our Facebook page: