As the
2010 Winter Olympics
begins in
Vancouver
, all eyes are on this city in
British Columbia, Canada
. The athletes of the world descend upon this city bringing years of preparation, their skills, and a lot of determination to do the very best they can to represent their home countries. The city of Vancouver has also prepared to put on a spectacular display for the world.
Vancouver is nestled between the mountains and the ocean with plenty of attractions and activities to keep locals and visitors busy. During the Olympics, additional
events
are planned including many free events. Some of these events will continue after the Olympic torches are extinguished.
2010 is the perfect time to visit Vancouver even after the Olympics. Explore the
top attractions
including Stanley Park, Robson Street, Granville Island, and the Capilano Suspension Bridge. Why not spend some extra time in Vancouver in conjunction with an Alaska Cruise?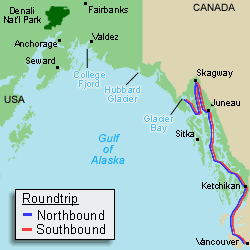 Alaska - Roundtrip Cruises, also known as "Inside Passage Cruises", begin and end in the same port.
Almost all Alaska - Roundtrip cruises are 7-nights long and begin in either Seattle or Vancouver
.

Since the cruise begins and ends in the same city, it makes it very easy to extend your stay either before or after your cruise. Just modify your flight arrangements, book a hotel room, and plan your Vancouver visit. For a one day itinerary, click here.


A typical Alaska - Roundtrip cruise spends the first day cruising the Inside Passage
and then visits
3 or 4 of the following places, depending upon the ship and departure:
Juneau

Glacier Bay

Ketchikan
Hubbard Glacier

Skagway/Haines
Sitka
Useful Links:
Information about Coming to Vancouver
Tourism Vancouver
Visitor Centres
British Columbia, Canada
Planning an Alaska - Roundtrip Cruise
My advice is to extend your Alaska cruise vacation to include a land-based portion. Most cruisetours to Alaska are in conjunction with Northbound or Southbound cruises. Those cruisetours extend the Alaska portion of the vacation. British Columbia is another area that is worthy of extra time, so if your plans call for an Alaska - Rountrip cruise, this post should give you some ideas to start your planning. I'd be happy to help you with your plans if necessary.