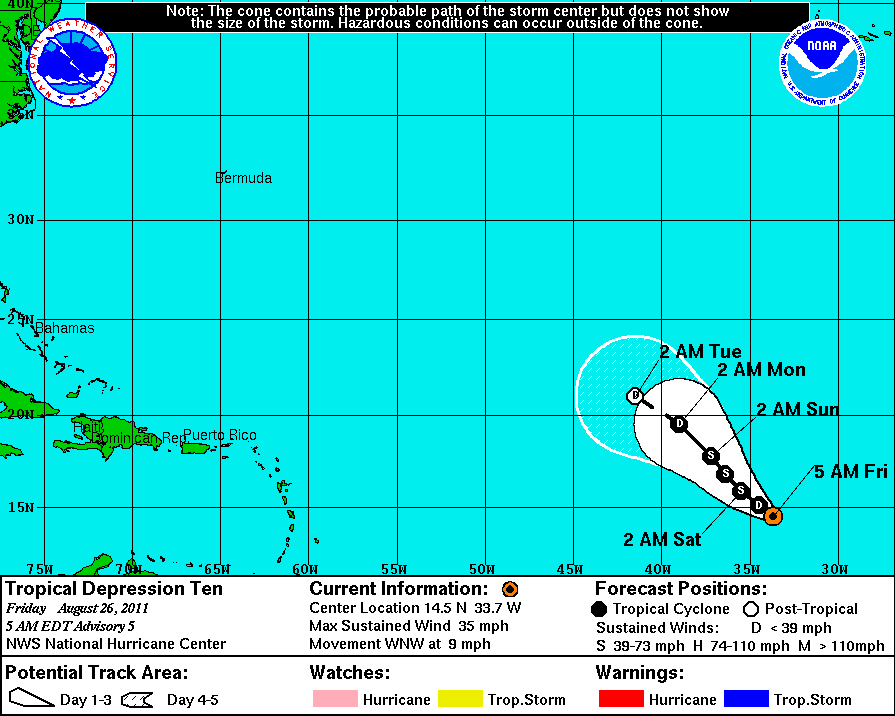 Tropical Depression Ten
Far Eastern Atlantic
While Hurricane Irene was barreling towards Bahamas and on to the East Coast of the United States, TD-Ten quietly formed in the far Eastern portions of the Atlantic Ocean. We monitored this storm, which had a chance of becoming a stronger Tropical Cyclone, but fortunately, that never materialized. Wind speeds never exceeded 35 mph which meant it would not be a named storm after all.
1100 PM EDT FRI AUG 26 2011
 
...DEPRESSION DISSIPATES...THIS IS THE LAST ADVISORY...
MAXIMUM SUSTAINED WINDS HAVE DECREASED TO NEAR 30 MPH...45
KM/H...WITH HIGHER GUSTS.  WINDS WILL CONTINUE TO GRADUALLY
DECREASE DURING THE NEXT DAY OR SO. 
Historical Data:
Storm Archive
Graphics Archive
500 AM EDT THU AUG 25 2011
 
...NEW TROPICAL DEPRESSION FORMS IN THE FAR EASTERN ATLANTIC...